Gender Neutral, since 2004.
Matthew and I have poured our hearts and souls into creating our eponymous brand over the last 17 years. Our gender-neutral approach was clearly unique at the time; and remains extremely unique even today. But a concept or idea are only as good as the products produced, and the people that produce them.

We have always refrained from hyperbole and tried to be as straightforward as possible; our products are great because they do what they say they do. And while this is an important crux of our success – along with a lot of hard work, an amazing team, and a fair dose of good luck, there is indeed another really important attribute to our success; New York.

New York is one of the most diverse cities in the world. It is filled with notoriously demanding egos, frustrated by infamously small bathrooms.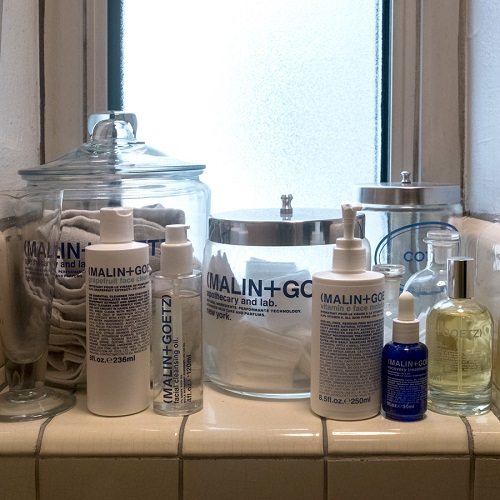 Sharing a cramped New York bathroom helped formulate our concept 17 years ago. We had a limited amount of space for all our skincare and grooming products. Besides having to navigate a very small space; we had an additional problem in that Matthew and I have very different skin types and we were always frustrated trying to find products that we could share together. So, when we decided to create Malin+Goetz, we knew we wanted to do things differently. We returned to the original inclusive concept of the apothecary, where products were always gender neutral, and where quality formulations meant it worked for just about everyone. We eliminated dyes, perfumes, and anything unnecessary from our skincare products so that even people with sensitive skin would be able to use our products and be able to achieve healthy skin.

Malin+Goetz was not only born in New York; but inspired and molded by it. New York is wonderfully saturated with so much diversity – the perfect template for a brand designed to be for every person, every skin type, every ethnicity, not to mention every extreme season.

Quite frankly, it's not always an easy place to please; or be. But it is one of the best places for celebrating diversity, and the benefits that it brings to all of us. Pluralism makes New York a fertile place for aspiring to do and be your best. I know that Matthew and I, and Malin+Goetz thrive off of that spirit.

When Matthew and I think about Malin+Goetz, we know that so many of the wonderful attributes that make up our brand come from the city where it was born. I don't think we would be who we are without that inspiration; nor would Malin+Goetz. So it goes without saying… here's to you New York!
– Andrew Goetz